Timothy Cooper
Timothy Cooper is a filmmaker, playwright, comedy writer, and teacher based in Brooklyn, New York. As the founder of Blueprint Screenwriting Group, he's worked with hundreds of writers and companies worldwide to help them sell their scripts and tell their stories through TV and film.
He wrote and directed the web sitcom Concierge: The Series, starring comedians from Saturday Night Live, 30 Rock, Bridesmaids, Last Comic Standing, the Onion News Network, CollegeHumor, and Upright Citizens Brigade. For his work on Concierge, he was nominated for a Writers Guild Award for Outstanding Achievement in Writing Original New Media. The series was also an official selection of the International Television Festival and the Screen Actors Guild Foundation Short Film Showcase.
His debut political comedy video, "Transparency," was featured on the front pages of YouTube Comedy and Slate magazine. He also directed two shows that played at the Upright Citizens Brigade Theatre in New York City: the improvised play Sunny-Side Up, and Farebeater: Improv in a Cab, both starring cast members from Silicon Valley, The League, Conan, and more.
He wrote and directed the two-screen digital sitcom pilot We Are Criminal Masterminds, which was a top-five nationwide finalist in the Samsung Second Screen Storytellers Competition at the New York Television Festival. Timothy is also the creator of 365 Loglines, where he posted an original movie idea every day for a year.
Timothy wrote jokes and other material for host Colin Quinn at the 2014 Writers Guild Awards, for Larry Wilmore at the 2015 Writers Guild Awards, and for Michael Ian Black at the 2016 Writers Guild Awards. He's also written commercials for dozens of high-profile brands, including multiple spots to promote the YouTube brand during the 2014 Super Bowl.
In 2016, he became an adjunct faculty member at New York University, in Tisch School of the Arts' Department of Dramatic Writing, where he taught a seminar for MFA students on writing, producing, and directing the pilot episode of an original digital series.
A proud member of the Writers Guild of America East, Timothy is currently developing multiple pilots and features with a variety of production companies.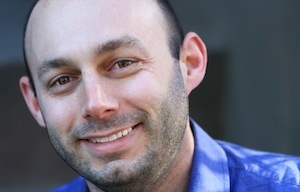 Products by Timothy Cooper